Do you know that you can earn money online by doing surveys? Yes, you can earn rewards. There are many online websites available that will help you to earn rewards by surveys. In this post, I will share some websites that will help you to earn rewards. So start making money through surveys.
Make Money Through Surveys
Now, you are wondering that how can you make money through surveys? Some websites will offer you to do surveys and then reward you for it. What I think the problem is that for some countries the surveys are not available like I search for inbox dollar and it says
Sorry!

InboxDollars is only accepting new account fromU.S.at this time.
We're sorry for the inconvenience.
And secondly, sometimes surveys are not available on some websites every time.
And another problem is that might be some websites will not actually pay you, but for the websites, I am sharing, I search about them on the internet, and I find that their reviews are good. But I suggest you do your own research on the websites I am sharing so you can make money through surveys with 100% information.
Online Surveys With Rewards
I will share details about these websites.
Survey Time
Swagbucks
Survey Time
You can visit Survey Time by clicking here. Then make your account. I make an account on this platform now to get details and then give you details about this platform but unfortunately, I get this message.
Welcome back!
It seems that we currently don't have new surveys for you. We do our best to save you time and find you only the best-matched surveys, so sometimes we don't have anything new to offer you.
But in making an account I get two options for rewards, one is an amazon gift card I think and the second is coinbase. You can see more details about this website here.
And their Trustpilot review is excellent.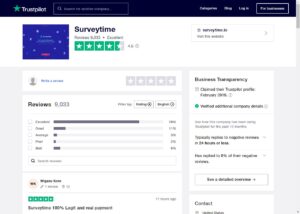 Swagbucks
I think this website is very popular. You may read about it anywhere else on google. There are many things available on this website to earn rewards with surveys.  Earn by surveys, searching, and by playing games and I think there are some other things too.  There are many reward options available like Payoneer and Paypal etc.
And secondly, you can read more about this website by clicking here.
The reviews on Trustpilot about Swagbucks are excellent.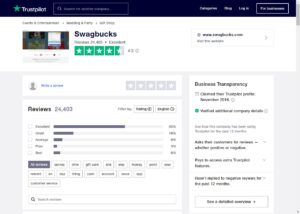 Conclusion
I think that the websites I mentioned are reliable and I have also shared the Trustpilot reviews and they are also excellent. If you are interested to make some money or earning rewards by doing surveys then I will suggest you check these websites. Survey Time may not give you the actual money but there are rewards. I also shared some problems with survey websites. I also suggest you check how much doing surveys gives you how much awards or money.
Read about Wiki related websites.
I hope that you like this post.
Share this with your friends.