Hey, in one post I talk about Willing To Do Free Online Courses? Check Udemy. Now in this post, I will talk about Coursera Courses that will be free. Yes, you can do that courses without giving money. However, you will not get a certificate and may be some other features or a feature. First I will talk that how you can create an account on Coursera. Read this post, Coursera Courses Free and start learning online for free.
Make An Account On Coursera
I will guide you using the desktop computer.
Go to Coursera.
Click on join for free.
You can sign up using these methods, I will sign up using google.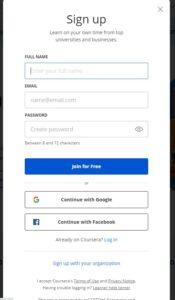 After signing up, your account has been created.
Now you can edit your profile if you want or can start courses immediately.
Coursera Courses Free
Now I will share some courses with you that you can do for free.
If you want the certificate then you have to pay for it. I think if you pay for the course and some other thing or things.
The first course is Introduction to Statistics. And it is offered by Standford.
The second course is Introduction to User Experience Design. And it is offered by Georgia Tech
The third course is Introduction to Calculus. And it is offered by The University Of Sydney.
The fourth course is Animal Behaviour and Welfare. And it is offered by The University Of Edinburgh.
The fifth course is Learning How to Learn: Powerful mental tools to help you master tough subjects. And it is offered by Deep Teaching Solutions.
The sixth course is Understanding the Brain: The Neurobiology of Everyday Life. And it is offered by The University Of Chicago.
The seventh course is English for Career Development.
The eighth course is Introduction to Mathematical Thinking. And it is offered by Standford.
The ninth course is Managing the Company of the Future. And it is offered by the University Of London. London Business School.
Conclusion
In this post, I share how to make an account on Coursera and I give links to some free courses.
Start the course that you are interested in. And if you want a post on the Financial aid application guide then please comment below.
Share this post with your friends.
Featured Image From https://about.coursera.org/
Read Free Personal Development Courses Online